Are you a true MMA fan? Worried about the extent of injuries a fighter can sustain in a fight? Well, they can be really severe. In this article, we covered the most jaw-dropping injuries in UFC history. MMA is a really brutal sport, and fighters often endure gruesome injuries. From broken bones to nasty bruises, these are the top 10 injuries that left us cringing. Each injury tells a story of fighters' toughness and the harsh reality of their sport. Join us as we revisit the top 10 worst MMA injuries and unforgettable moments in UFC history.
Top 10 Worst MMA Injuries in UFC History
The top 10 worst MMA injuries in UFC history in no particular order are: 
Anderson Silva vs. Chris Weidman (UFC 168): Severe leg fracture
When you're talking about the worst injuries in UFC history, you need to mention Anderson Silva and Chris Weidman. In a highly anticipated rematch at UFC 168, Anderson Silva, a legendary MMA fighter, faced off against Chris Weidman for the UFC Middleweight Championship. During the fight, Silva attempted a leg attack, but Weidman defended himself by using his knee to block the attack. The impact of Silva's leg against Weidman's knee resulted in a gruesome injury to Silva. He suffered a severe fracture in his left leg, specifically in the lower part of his tibia and fibula, most probably the worst fracture and one of the worst injuries you'll ever see.
The injury was immediately visible, and it was clear that Silva was in immense pain. The referee promptly stopped the fight, and medical personnel rushed to assist Silva. He was subsequently taken to the hospital for surgery to repair the broken bones.
This injury was one of the most shocking and memorable moments in MMA history, as it was a graphic and unfortunate consequence of the sport's physical nature. Silva faced a long and challenging road to recovery after this fight, but his resilience and determination allowed him to eventually return to the octagon. Did you know Chris also had a similar experience and got a broken leg – both Fibula and Tibia bones broken, in a fight against Uriah hall? It was also another tragedy as it was obvious he was in excruciating pain.
Antonio Rodrigo Nogueira vs Frank Mir (UFC 140): Severe arm damage
Next on our list of 10 worst injuries in MMA history is the fight between Antonio Rodrigo and Frank Mir. During their bout at UFC 140, Antonio Rodrigo Nogueira faced off against Frank Mir in a highly anticipated heavyweight matchup. In the fight, Nogueira found himself in a dangerous position on the ground, with Mir controlling him. Mir seized the opportunity to apply a submission technique known as a kimura lock.
With tremendous force and leverage, Mir applied the kimura lock on Nogueira's arm. The pressure on Nogueira's arm was immense, and despite his resilience, his arm ultimately succumbed to the submission leading to a broken arm. The referee had no choice but to intervene and stop the fight to prevent further damage to Nogueira's arm.
The outcome was a shocking and memorable moment in MMA history, as Nogueira's arm injury was visible and clearly excruciating. It is one of the worst MMA injuries and highlighted the effectiveness and danger of submission techniques in MMA, as well as the incredible pain tolerance of fighters like Nogueira.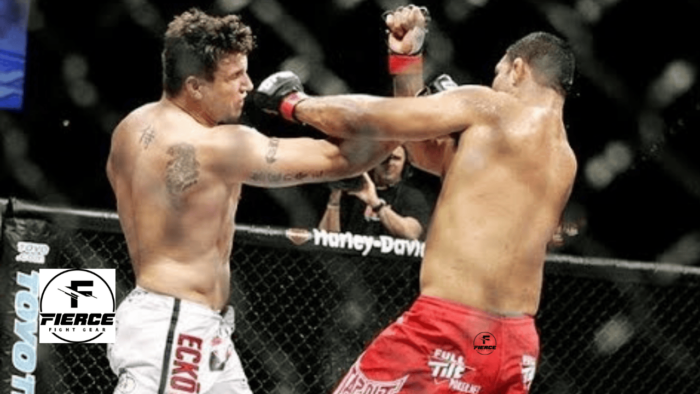 Cyborg Santos vs. Michael Page (Bellator 158): Serious skull fracture
During their bout at Bellator 158, Evangelista "Cyborg" Santos faced off against Michael Page in a welterweight contest. The fight was highly anticipated due to the contrasting styles of the two fighters.
In a dramatic moment during the match, Page launched a flying knee strike aimed at Cyborg's head. Unfortunately for Cyborg, the knee landed with significant force, causing a severe injury. Cyborg was immediately incapacitated and in intense pain as a result of the knee strike.
Medical personnel quickly rushed into the octagon to provide assistance to Cyborg. It became evident that he had suffered a serious skull fracture due to the impact of the knee strike. Cyborg was subsequently taken to the hospital for emergency surgery to address the injury after which he had to hang up his gloves and retire.
This incident was a stark reminder of the potential dangers of striking techniques in combat sports and the severe consequences they can have for fighters. It also highlighted the importance of fighter safety in the sport.
Mark Hominick vs Jose Aldo (UFC 129): Hematoma
In his featherweight title bout against Jose Aldo at UFC 129, Mark Hominick endured a significant injury that became a focal point of the fight. During the bout, Hominick sustained a massive swelling on his forehead, which is often referred to as a hematoma. This swelling occurred due to the powerful strikes landed by Aldo, particularly in the early rounds of the fight.
Despite the severe hematoma, Hominick displayed tremendous heart and resilience, continuing to press forward and fight back against Aldo. The swelling on his forehead grew larger as the fight progressed, drawing considerable attention from the audience and commentators.
Ultimately, Hominick's valiant effort earned him the respect of fans and fellow fighters alike, as he endured the hematoma and managed to make it a competitive bout. While he didn't secure the victory, his determination in the face of a significant injury left a lasting impression on the MMA community.
Buying Boxing Gear? Fierce Fight Gear Has Got You!
Surf our collection of durable and high-quality boxing headgear, t-shirts, shorts, boxing jackets, gloves, and more. With our durable protective gear for pro matches, training sessions, fights, and more, you can be sure to prevent severe injuries. Protect yourself with Fierce Fight Gear today!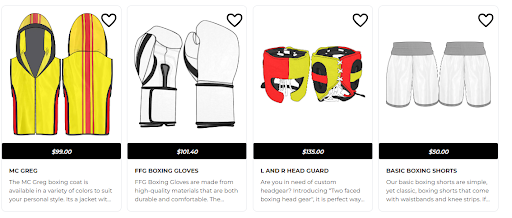 Michael Bisping vs Vitor Belfort (UFC on FX 7): Extreme Eye Injury
In his middleweight bout against Vitor Belfort at UFC on FX 7, Michael Bisping, the former UFC middleweight champion, suffered a devastating eye injury that had a profound impact on the fight. Early in the first round, Belfort landed a head kick flush on Bisping's face. The impact of the kick was brutal and had immediate consequences for Bisping.
As a result of the kick, Bisping's left eye began to swell and close rapidly. The injury was severe, with his eye nearly swollen shut. Despite his determination and resilience, Bisping struggled to defend himself effectively due to the limited vision caused by the injury.
The fight continued for a brief period, but it was evident that Bisping was at a significant disadvantage due to the eye injury. Ultimately, Belfort capitalized on the situation and secured a victory via TKO in the first round winning the UFC middleweight title.
Bisping's eye injury from this fight had lasting effects on his career and served as a stark reminder of the potential dangers and consequences of competing in MMA. This is why the fight is on our list of top 10 worst MMA injuries in the UFC.
Jon Jones vs Chael Sonnen (UFC 159): Toe dislocation
In the UFC 159 light heavyweight title bout between Jon Jones and Chael Sonnen, a unique and gruesome injury occurred. Late in the first round of the fight, Jones executed a spinning back kick, targeting Sonnen's midsection. However, the kick landed awkwardly, causing Jones to suffer a dislocation to one of his toes.
The injury was immediately noticeable, as the dislocated toe was bent at an unnatural angle making it one of the worst UFC injuries. Despite the severe injury, Jones continued to fight and ultimately secured a first-round victory via TKO and got the UFC light heavyweight title. However, the dislocated toe became a significant talking point in the aftermath of the fight. This incident highlighted the incredible toughness and determination of UFC fighters like Jon Jones, who managed to not only continue fighting but also win the contest and even give a post-fight interview despite suffering a painful and visually striking injury.
Alistair Overeem vs Jairzinho Rozenstruik (UFC on ESPN 7): Significant lip laceration
Another fight to make it here on the list of MMA injuries of all time is the fight between Alistair Overeem and Jairzinho Rozenstruik. In their heavyweight bout at UFC on ESPN 7, Alistair Overeem faced Jairzinho Rozenstruik. The fight was competitive, with both fighters having their moments. However, in the final moments of the fifth round, Rozenstruik landed a powerful punch on Overeem's face.
The impact of the punch was devastating, and it resulted in a significant laceration to Overeem's lip. The injury was immediately visible, and it caused a significant amount of bleeding. Despite the injury, Overeem showed tremendous toughness and continued to fight. However, as the round ended, it became evident that the damage to Overeem's lip was severe, and the referee stopped the fight due to the injury. The split lip was a graphic and memorable moment from the fight and served as a testament to the physical demands and risks involved in MMA competition.
Leslie Smith vs Jessica Eye (UFC 180): Exploding Ear
In their bantamweight matchup at UFC 180, Leslie Smith faced Jessica Eye in a highly competitive bout. During the fight, a gruesome and visually striking injury occurred to Smith's ear. This injury resulted from a series of strikes exchanged between the two fighters.
The damage to Smith's ear was severe, and it led to a graphic visual as her ear appeared to spray blood all over the octagon and deform due to the impact of Eye's strikes. Despite the disturbing appearance of the injury, Smith continued to battle through the fight, displaying tremendous toughness and determination. Ultimately, the fight went to a decision, and while Smith didn't secure the victory, her resilience and the shocking nature of her ear injury left a lasting impression on both fans and fellow fighters in the MMA community. This incident emphasized the physical toll that MMA can take on its participants.
Joanna Jędrzejczyk vs Weili Zhang (UFC 248): Hematomas
In their epic battle for the UFC Women's Strawweight Championship at UFC 248, Joanna Jedrzejczyk faced Weili Zhang in a fight that would go down in Mixed Martial Arts history. During the five-round war, both fighters exchanged a barrage of powerful strikes.
As the fight progressed, it became evident that Jędrzejczyk was sustaining significant damage to her head. She developed large and prominent hematomas on her forehead and around her eyes due to the relentless striking from Zhang. These hematomas were visually striking and a testament to the incredible toughness of both fighters. Despite the severe swelling and hematomas on her head, Jędrzejczyk continued to showcase her fighting spirit and pushed the champion, Zhang, to the limit. The fight went the distance, with Zhang retaining her title via decision. Jędrzejczyk's head hematomas in this bout became an iconic and memorable aspect of the fight, symbolizing the incredible heart and resilience displayed by MMA athletes at the highest level of competition. Thankfully, she made a full recovery and kept her career moving.
Matt Mitrione vs Travis Browne (UFC Fight Night): Fractured orbital bone and dislocated shoulder
In their heavyweight matchup at UFC Fight Night, which caused one of the worst MMA injuries, Matt Mitrione faced Travis Browne in a highly competitive bout. During the fight, Mitrione suffered a series of injuries, which significantly impacted his ability to continue.
One of the injuries Mitrione sustained was a fractured orbital bone, which is a serious facial injury. This injury can be incredibly painful and affect a fighter's vision and overall performance. Additionally, Mitrione also suffered a dislocated shoulder during the fight, further complicating his ability to defend himself and continue competing effectively. These injuries were a testament to the physical demands and risks associated with MMA competition. Mitrione displayed toughness by attempting to fight through these injuries, but the referee ultimately stopped the bout due to the extent of his injuries. This fight showcased the importance of fighter safety and the potential for severe injuries in the sport.